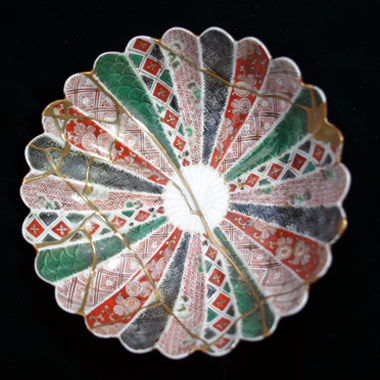 Kintsugi
 [
Koimari
]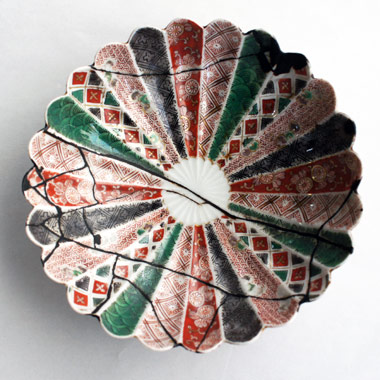 Kintsugi
process consists of coating Urushi–Japanese lacquer
.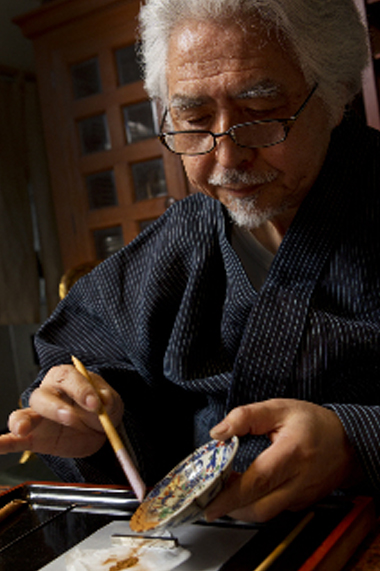 Makie
K24
gold powder
Kintsugi
is a method of repairing and restoring ceramics and pottery by using Japan's unique technique of Makie or gold-lacquer work. This method developed along with the development of Chanoyu or Tea Ceremony and was perfected between Azuchi-Momoyama Period (1573 – 1603) and early Edo Period (1600s).
Kintsugi
or fine arts using gold of the way of Kintsugi Souke was developed and perfected as the original and most sophisticated technique developed by myself based on the authentic Urushi–Japanese lacquer coating and the traditional Makie–lacquer work.
Kintsugi
means putting together damaged parts or fragments of ceramics and pottery using Urushi–Japanese lacquer paste, coating Urushi–Japanese lacquer, and applying Makie to make the work look beautiful and decorative, to thereby offer them for practical use.
Kintsugi
is based on a uniquely Japanese sense of beauty of decorating the damaged part with gold Makie to make it look conspicuous. It is an artwork born out of the original Japanese culture of MOTTAINAI or cherishing and using the articles with utmost care.
Kintsugi
process consists of coating Urushi–Japanese lacquer paste over the cross section of broken part(s) of ceramics or pottery, adhering the broken part(s) together, filling the concave part with Urushi putty, drying and shaping the part, coating the surface with urushi lacquer, drying and polishing the lacquer coated surface flat, thus completing the base. The surface to be applied with Makie is coated with E-urushi, colored urushi lacquer prepared by mixing red ochre or red iron oxide and transparent lacqure
、
and pure gold powder is applied on thus-finished surface using Funzutsu–bamboo cylinder for applying Makie.
After the E- urushi undercoat for Makie is completely dry, the surface is polished to bring out the luster of Makie's pure gold powder.
Showzi Tsukamoto
, the Master of Kintsugi Souke